Click on the poster to view the exhibition online
Here & Now
Thursdays, 2-5pm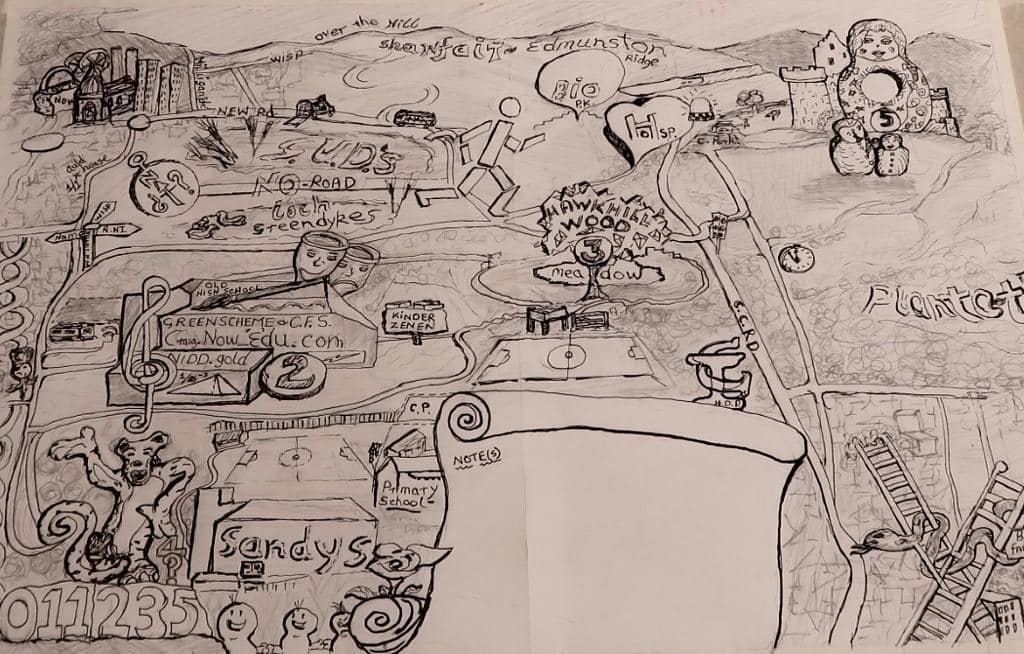 Weekly outdoor art workshops and walks, led by local artists and delivered in collaboration with
Craigmillar Community Grows

.
Upcoming Events:
Thursday 18th August: A walk through Hawkhill Woods to Craigmillar Castle, organised and guided by Gus Meechan.
Gus was part of the original team involved in planning Craigmillar's pioneering 'urban forest' over 20 years ago. The urban forestry project was piloted in Craigmillar and, following its success, was rolled out across Edinburgh. Gus will share his memories of the forest's development accompanied with foraging workshops led by Karin. Gus will then lead us to Craigmillar Castle to share a mysterious and unresolved story about a tree on the grounds…
The art walk starts at Castleview Primary School at 2pm. We will be walking at a gentle pace and there will be breaks for tea and snacks on route. All walkers will be given a sketchbook, pencils and a print of a hand drawn route map by artist Gus (pictured).
All events are free but please let us know you're coming, either email Louise at louise@craigmillarnow.com or text/call Karin at +447824838364

Craigmillar Now & Then:
Creating a Community Archive
Mondays 10am - 5pm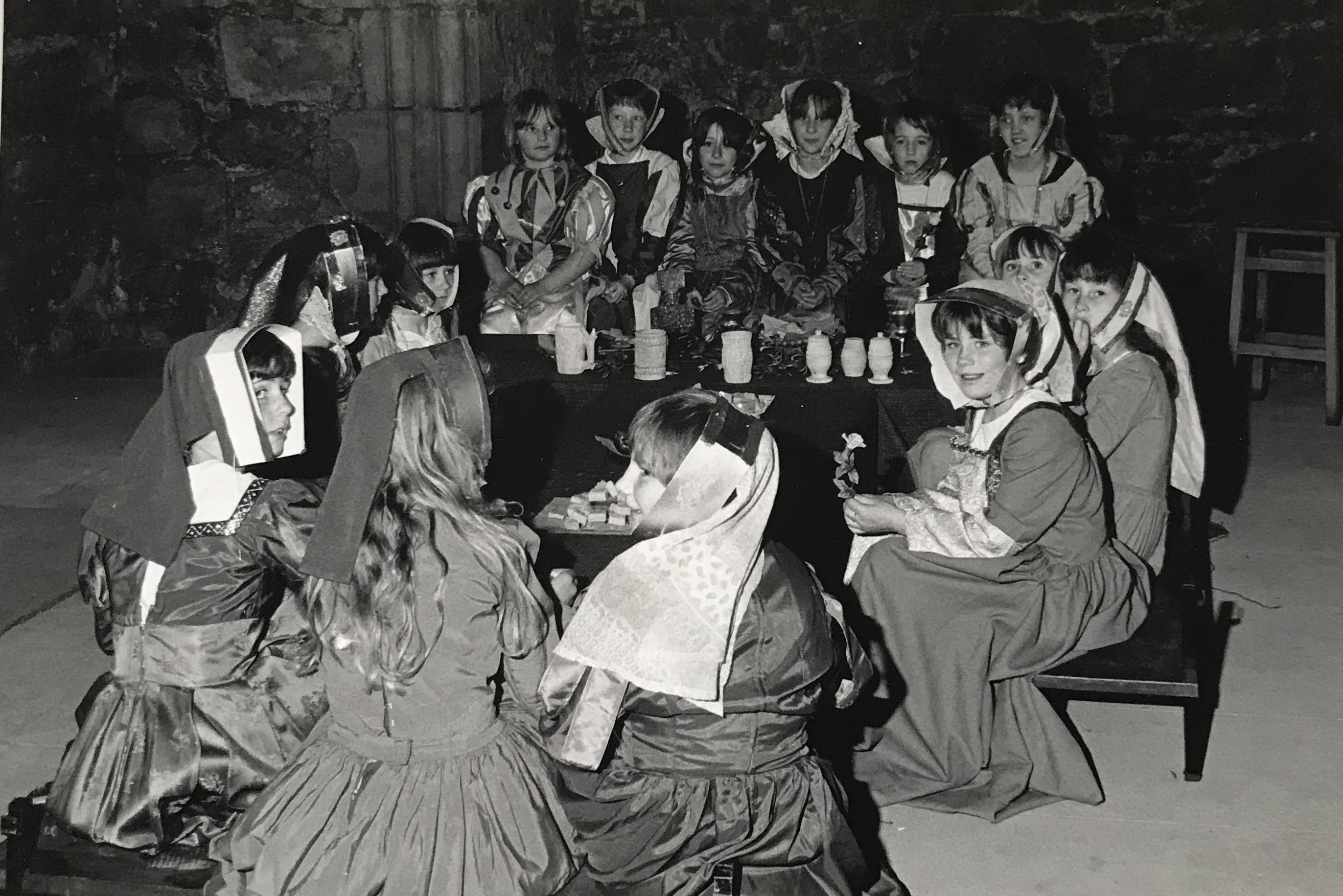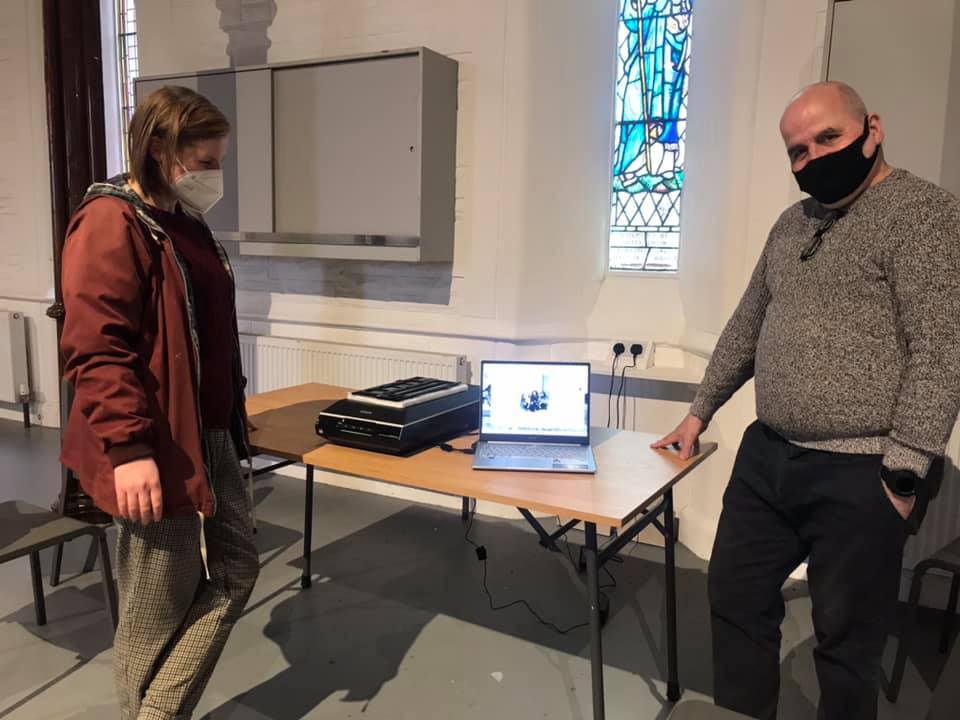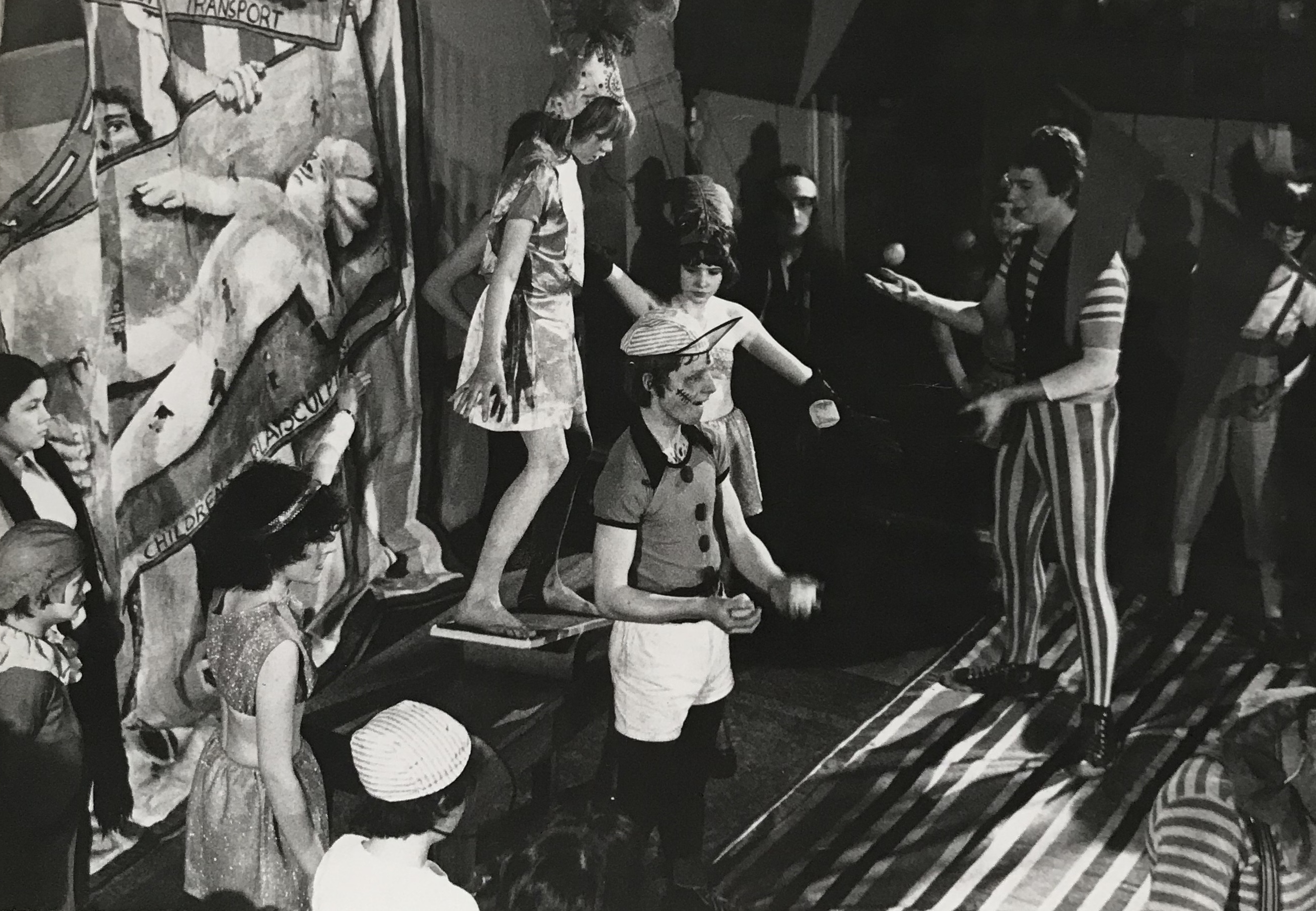 Craigmillar Now is currently working with local volunteers to create the first publicly-accessible, community-led Craigmillar archives. The archives group currently meets every Monday at the Art Centre at 10am. Archivist training is led by photographer Zoe Hamill and covers cataloguing, scanning, file management and photography.

Would you like to get involved? No experience is necessary - just a passion for Craigmillar's history. To volunteer please contact info@craigmillarnow.com or sign up here




The Craigmillar Tapestry
Mondays 12 - 2pm

Stitch some history at our weekly Tapestry group. We are currently working on the Arts Centre panel of this beautiful community artwork, designed by Andrew Crummy, the artist behind the Great Tapestry of Scotland. Sessions are led by Sheila and the group is very relaxed and informal, no experience is necessary and there's no need to book - just pop along!


Collecting Craigmillar's Stories

We started to collect stories about Craigmillar's past at the start of 2021, in a new project developed in collaboration with Connecting Craigmillar and later supported by Queen Margaret University.

The project is part of the development of Craigmillar's archives and is designed to improve knowledge of the area, by capturing oral histories from people who have lived in the community for many years.
Before we started the project there were no oral histories in the archive. Thanks to the support of a team of volunteer callers and local people who have generously shared their stories we are building this resource.

You can listen to the oral histories we have collected so far on our Sound Cloud page.

Celebrating Craigmillar's Women of Achievement
(Image courtesy of Andrew Crummy)

When Craigmillar Now moved into the Arts Centre we realised the Helen Crummy Women of Achievement plaque was missing. The plaque was part o

f

an Edinburgh-wide tra

il

d

edi

cated some of the city's pioneering women and is an important part of Craigmillar's heritage.

We are excited to announce that we have commissioned the artist Shauna McMullan to develop a new artwork celebrating Craigmillar's women of achievement to replace the missing the plaque. Shauna worked with Helen Crummy on her installation 'Travelling the Distance' at the Scottish Parliament.

Over the next few months Shauna will be visiting Craigmillar for further research.


Artist in Residence 2022
Barbara Byahurwa: Rebirth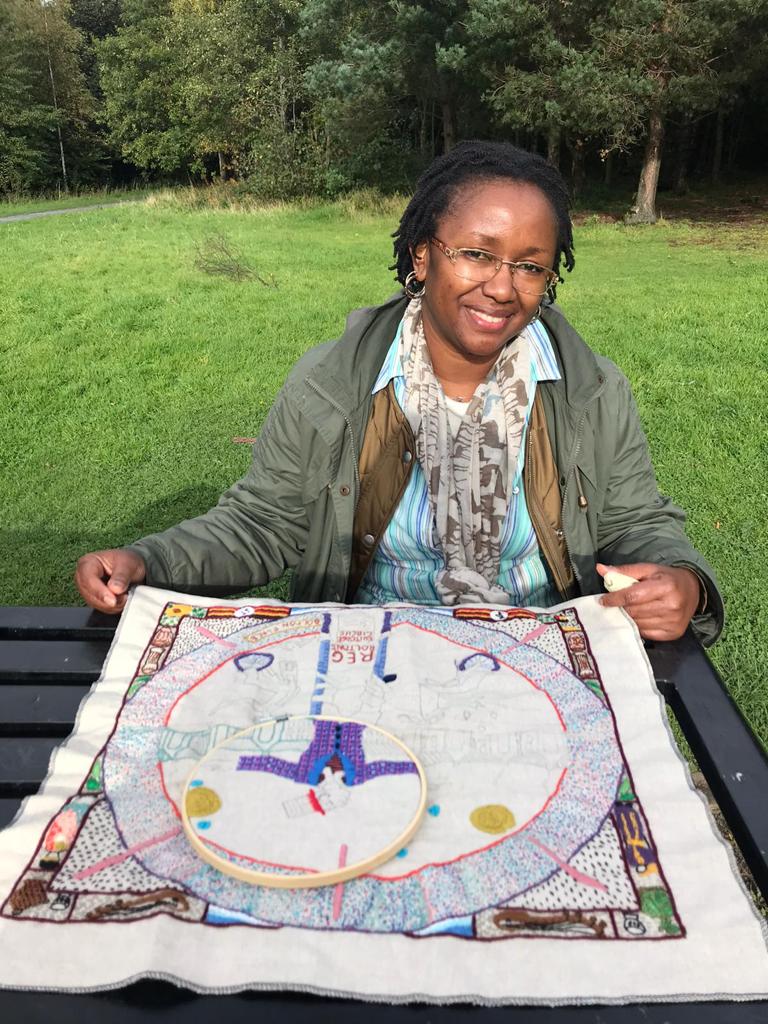 Barbara stitching the Reg Bolton panel of the Craigmillar Tapestry


We are delighted to welcome local Ugandan artist Barbara Byahurwa to Craigmillar Now, to take part in a 3-month residency at the arts centre studio, between March - June 2022. During this time and with mentoring from Craigmillar Now's first artist-in-residence, Nihad Al Turk, Barbara will develop a new series of paintings and sculptures. We are also looking forward to working with Barbara to launch a new artist website to showcase her work...watch this space.


Craigmillar Garden Residency
Michael Inman
In September 2021 Michael Inman joined Craigmillar Now on an artist residency in our garden. You can follow Michael's progress on the outdoor spaces around Craigmillar Now, including plans for a new dye garden, on his artist blog.


New School x Old School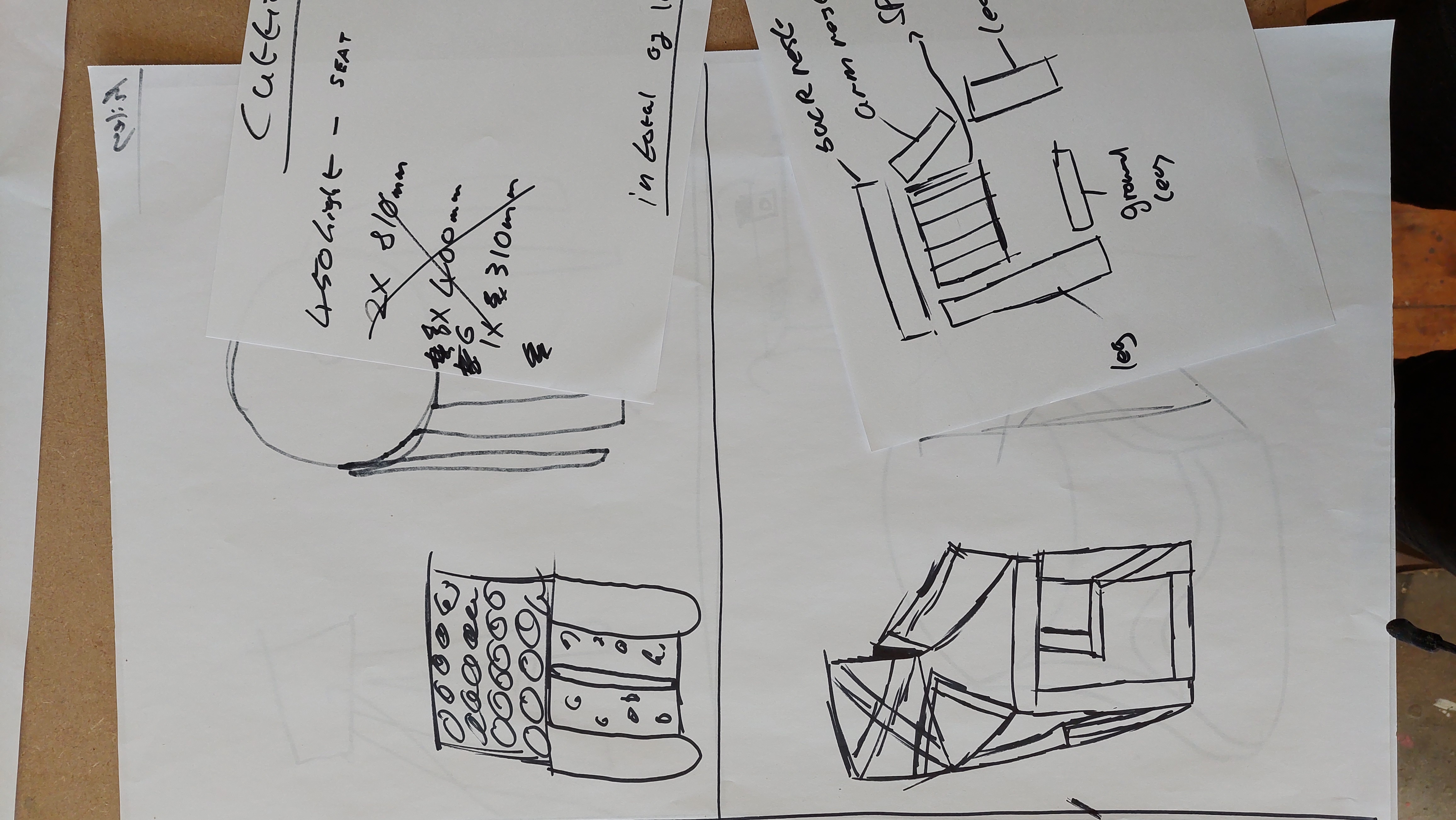 Some very creative local young people supported by Action for Children's Employability Programmes teamed up with the talented folks at Old School Fabrications to create the most amazing benches for our garden space. Over two weeks the team at OSF guided the young people through the full design and making process - drawing, building, finishing - and just LOOK at the results! We feel very lucky to have such special furniture at the centre.

Past Projects

Nihad Al Turk: Daily Myths
Residency and Exhibition


(Photo Lawrence Darwish)

Daily Myths was an exhibition of new works by the internationally renowned, local Syrian artist Nihad Al Turk.

Nihad was in residence at Craigmillar Now between November 2020 - October 2021. During this time, he produced a series of captivating, large scale paintings depicting haunting figures and imaginary creatures, inspired by Kurdish myths and the Christian iconography of the former church space where they were made.

This project was made possible thanks to the support of the City of Edinburgh Council and The Hope Scott Trust.


New Limited Edition print by Nihad Al Turk

£25 (plus p&p)


We are very excited to share with you a new limited edition print by Craigmillar Now's first artist-in-residence, Nihad Al Turk.The untitled work shows the soldier with the golden arm, who featured prominently in Nihad's exhibition 'Daily Myths' at the arts centre. The work is signed by the artist and printed on A4 Fedrigoni Tintoretto Gesso paper. From an edition of 200.All funds raised through sales of the print will support Craigmillar Now's work. If you would like to purchase a print please contact info@craigmillarnow.com



Seen and Heard
Thursdays, 7 October - 25 November 2021

Hire Our Space
Craigmillar Now is based in an impressive 19th Century church next to Fort Kinnaird Retail Park in East Edinburgh. It was recently renovated by Groves + Raines Architects, creating a stylish and contemporary venue suited to a range of events and activities.

We are now taking bookings for our Main Hall space, which includes a large stage area perfect for performances and events.
Rates start from £30 p/h.
For more information or to make a booking please contact Rachael Cloughton at info@craigmillarnow.com.

Accessibility:
The Main Hall is completely accessible. There is disabled access via a ramp at the back of the church, entered through the car park, there is also a disabled toilet. Please note there is no disabled access to the mezzanine level or kitchen space.
The Team -

Rachael Cloughton,

Project Lead: info@craigmillarnow.com


Anna Mayhew, Heritage Programme Coordinator: anna@craigmillarnow.com
Louise McLachlan, Volunteers and Partnership Coordinator: louise@craigmillarnow.com

Board Members


Maureen Child




Andrew Crummy


Sophia Marriage (Chair)
Kim Harsley
Lucy Wood
Louise Donoghue

Get In Touch

You can contact us on info@craigmillarnow.com

58 Newcraighall Road, EH15 3HS

How to get to the Arts Centre

Car Parking is available on site.
Bus: Lothian Buses 30, 400, 106 and 49
Train: Newcraighall Train Station

Scottish Charity SC050027 (SCIO)

Images of the Art Centre courtesy of Murdo McDermid/Groves-Raines Architects Studios Ltd
Keep In Touch
Sign up to our e-newsletter to get updates on our work in your inbox...